LED Flexible Strip - Sign Backlight Series - Light Sheet White 2835 288LED 24V GL-24-FE71&FG80
LED Flexible Strip - Sign Backlight Series - Light Sheet White 2835 288LED 24V GL-24-FE71&FG80
1. Plus Series using top quality material such as Epistar/San'an chip, Intermatix phosphor powder, ShinEtsu & Dow Corning glue, Heraeus 99.99% pure golden wire, pure copper & fresh plastic stand etc. as standard configuration.
2. Sign Backlight Series in light sheet appearance, allows flexible cutting (by 1 LED) and on-site board-to-board/board-to-power, split joint (by cable soldering) into multiple shapes, such as linear, square, rectangle, donut, L, T, S, + etc., along with the solid and dotted line, applying at advertising word, signboard light box or abnormity mount scene.
3. For curvy, space-sensitive backlighting solutions requiring the thinnest of lighting solutions. Light sheet is great for backlighting projects where a lighting solution that is both thin and bendable may be needed to fit into soft, curving surfaces and spaces.
4. Exclusive for backlight of showcase, billboard and signage light box in small size and thin width, also used for photographic light.
Sign Backlight Series - GL-24-FE71&FG80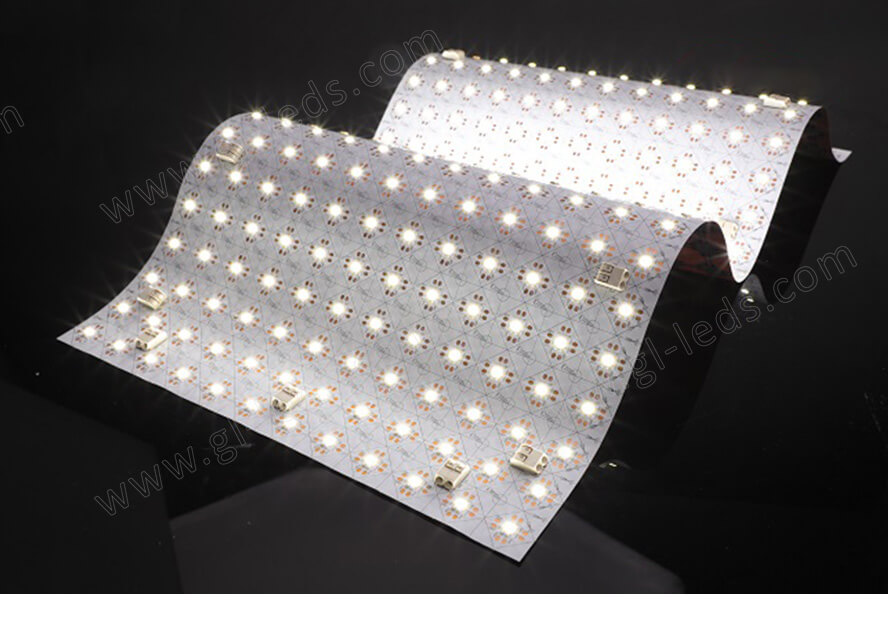 Main features:
- Sign exclusive, highlight your brand concept.
- Flexible bend, multiple CCT and color choices.
- Split joint and power fed through on-board connector or soldering pad.
- Fix by 3M tape or staple gun or nails applying on flat or curved mounting surface.
- Flexible cut per single LED to any desired shapes, such as L, +, S, -, donut etc.
- 4 rated power and brightness to fulfill different application, single color and CCT are both available.
- 3 SDCM assure the good color consistency. CRI80 & CRI90 are optional.
Main parameter:
| | |
| --- | --- |
| Part No. | GL-24-FE71&FG80 [GL-X2835XX-24-CV-288-FE71&FG80] |
| LED Type | SMD2835 |
| LED QTY | 288LED/sheet |
| Voltage | 24VDC |
| Power | (10, 20, 30, 45)W/sheet |
| PF | / |
| Color | White |
| Brightness | (1190, 2230, 3450, 5060)lm/sheet |
| Light Efficacy | (119, 116, 115, 113)lm/W |
| CCT | 2700K&3000K&3500K&4000K&5000K&6500K |
| CRI | Ra≥80/90 |
| SDCM | 3 step |
| Wavelength | / |
| Beam Angle | 120° |
| Minimum Unit | L20*W20mm [L0.8*W0.8in.] |
| Dimension | L480*W240*H1mm [L19*W9.5*H0.04in.] |
| IP Rating | IP20/IP54 Thin [Dry/Damp] |
Application: